Communion Pocket
Dog Pet sling carrier bag
When you go out with your pet, you can stroke it opening the hidden zipper of the communion pocket Pet Carrier.
Sharing mind through each other's body heat at walking or sitting,
you may reduce the stress of your pet.
Outer Fabric : poly
Inner Fabric : Cotton
Color : Black
How is the FUNDLE different from other ordinary pet carriers?
Design that Both sides Can Be Used
You can put Fundle Dog Pet sling either on your right of left shoulder, as it is designed to be used on both sides.
The length of strap can be adjusted buckle is front where hands can easily reach.
Please put the head of a pet close to your heart tightly fastening Tip~!
Strap that makes putting on Fundle Petsling lighter and more comfortable.
Fur babies feel most comfortable, when they hear the heartbeat in your arms.
Communion Pocket
If you open the communion pocket, you can stroke the pet softly.
The pets are not be stressed when they feel the touch of you.
Inside Bottom and Safty Ring
Inside bottom of Fundle Pet carriers has the lining of cotton considering the skin of pets.
You can hold your pet more tightly as the soft but not so thick material is inside the tender lining.
Besides, the internal safty ring enables to cope with the incident of suddenly flounding out pets.
Broad Sholder Strap
Fundle Pet Dog Carriers are an ultra-light carring bag of 650g only. Soft sponge is inside the wide sholder strap,
and it can be used more lightly as the weight of a pet is distributed by the broad shoulder strap
Detachable Cover
As the cover of Fundle Petsling is easily detachable with good ventilation when the cover is opened.
It is available to use it cool in the summer. In case that the cover is to be closed for etiquette on public transportation,
It does not keep a pet dangling as the half of the cover is made of mesh.
Cushioned round pad(inner : cotton)
Pets like to place their chins on you arm or cushion.
For this, the entrance of our Pet carriers has cushioned round pads in both sides.
Your pet places its chin on there cushion.
Since they absorb shock resulting from swing when you walk, your pet can take a good rest in safe environment.
Soft Floor(the slant front)
Soft floor, it provides your pets with feeling that you are actually holding them in your arms.
They can place their front legs on the slant front floor of the carrier and take a look at srrounding enviroment.
Padded shoulder strap
FUNDLE petsling is as light as 700g.
Since you bear it on your shoulder diagonally, you feel it is even lighter than it is and can do anything as if you were not bearing it.
Ample Storage Space
Fundle pet carrier has the sufficient storage at both sides.
Going out with pets in easier since It is not required to carry a master's bag as a wallet and cell phone as well as diaper, feed and pet supplies can be contained in the storage space.
Mesh
When you carry pets with you in a portable bag, you sometimes need th bag covered not to be against manner.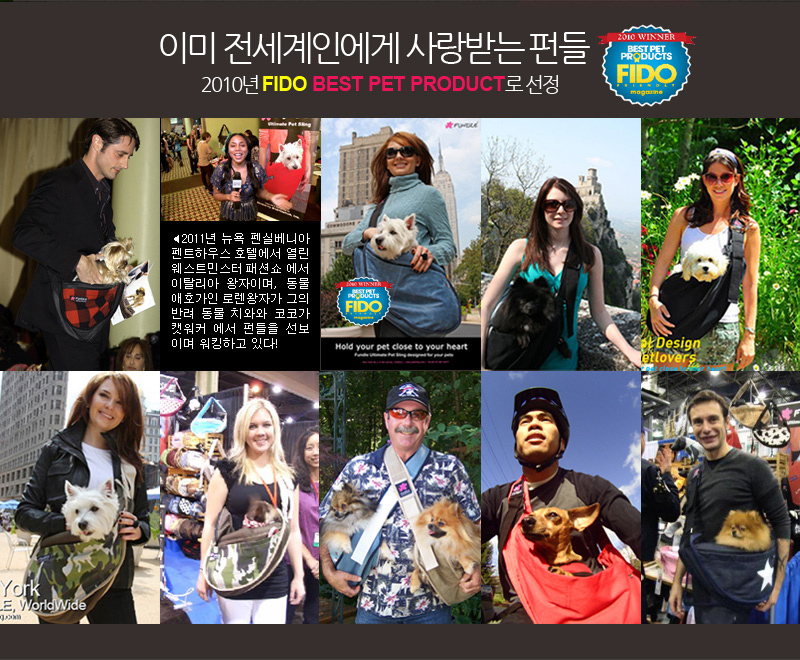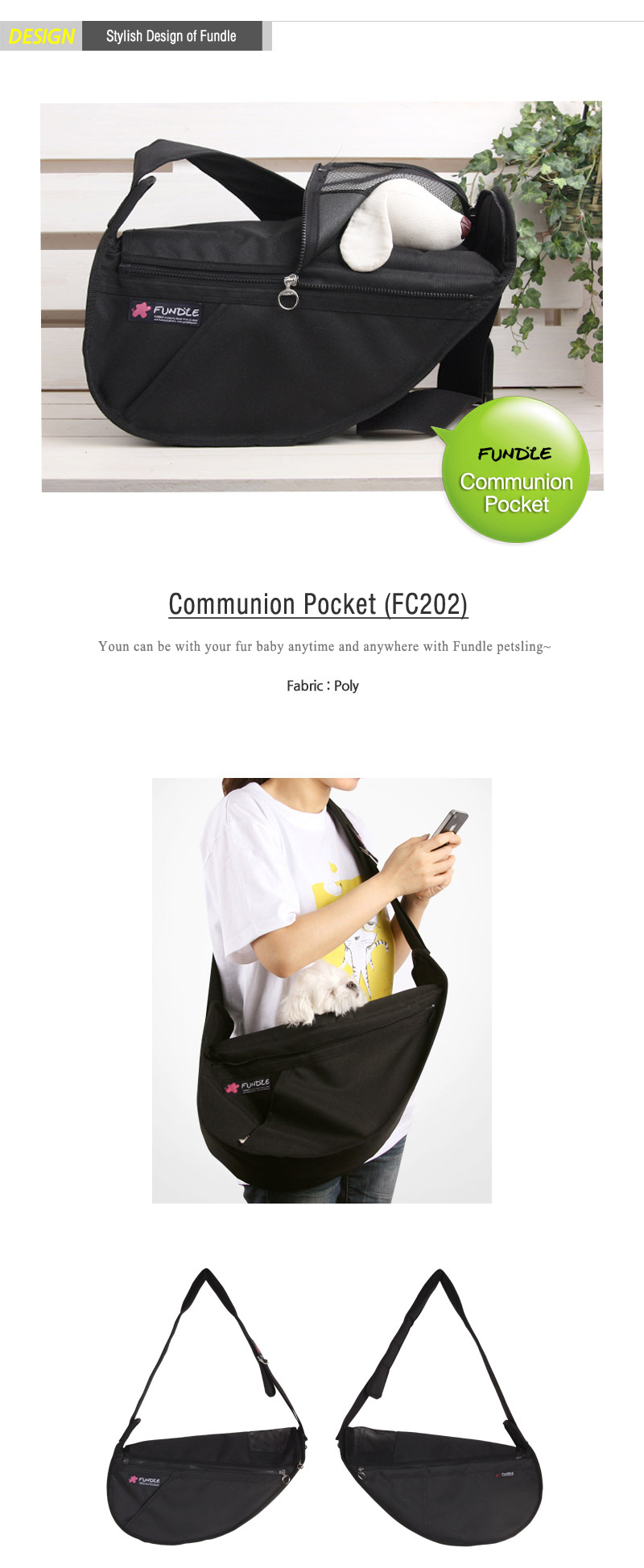 Design that Both Sides Can Be Used

You can put Fundle Petsling either on your right or left shoulder, as it tis designed
to be used on both sides. The length of strap can be adjustable whenever necessary,
since the adjusting buckle is in front where hands can easily reach.
Please put the head of a pet close to your heart tightly fastening Tip~!
Starp that makes putting on Fundle Petsling lighter and more comfortable.
Fur babies feel most comfortable, when they hear the heartbeat in your arms.

All Images Copyright, 'Fundle', All Rights Reserved.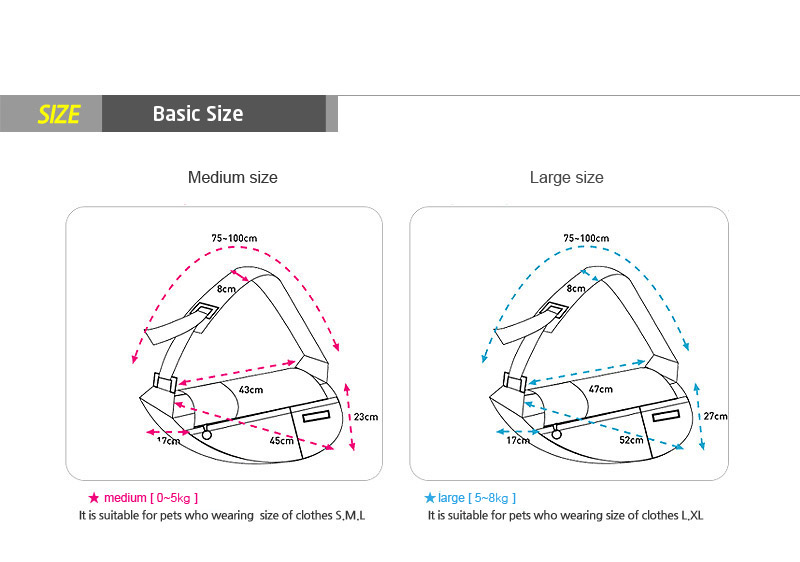 FUNDLE is the design brand specialized in the products for pets, and manufactures the diverse fabric products matching the lifestyle of pets that live the modern society. All the processes from the selection of quality raw materials to the production are performed 100% in S. Korea under the strict quality control with the overall supervision by our designers. Although the manufacturing costs of our products are a bit high due to the handmade processes by artisans as well as the quality raw/subsidiary materials, the designs and quality of our products are widely recognized throughout the world.And we assure that we would present the diverse products of fabrics equipped with the creative design, practicality and reasonable prices.
Communion Pocket Black - Pet sling for Dog
*Comfort- Scientifically designed and patent-winning FUNDLE pet carrier makes carrying your pet extra comfortable.
*Cozy- Quality fabrics used in the inner laye will gently hug pet so he/she feels at home inside FUNDLE dog carrier.
*Hands-free - Bring your pet to any of your activities! FUNDLE Pet carrier will provide you with the luxury of being able to engage in any activity because your hands won't be tied to your dog.
*Secure Design-Your dog safely sits in your FUNDLE Pet carreir even during vigorous activities so you can fee at ease knowing your pet is safe.
*Style- Over 30 styles to pick from! Stylish of FUNDLE can make your pet stand out from the crowd.
*Fabric-Outer Fabric is built with cotton and waterproof linen fabric, so your pet is protected from danger while you acr protected from any embarrsassment of accident by your pet.
Inner layer is cotton fabric considering the weak skin of pets.
Does your pet resist to go into your current pet carrier?
That's because your pet carrier is not professionally designed for your pet. Most pet carriers are designed by handbag designers who know nothing about our precious pets!
If your precious dog doesn't like your current carrier or if you don't have a carrier, try our super comfortable patent winning Fundle
Fundle holds your pet exactly the way you hold your pet! With its patent winning design, Fundle induces the most comfortable sitting position of your pet for the maximum comfort!
Especially engineered for your pet, Fundle guarantees the ultimate comfort for your prized pooch or feline! As soon as your pet goes in the Fundle, your pet won't come out, because it is so comfortable inside!
Do you want something more luxurious than the simple Fundle? Here, we've added something special for the classy customers.
Fundle Stripe's beautiful print will not lose to any other competitions in style and prestiege. Fashionable Fundle Stripe is a great fashion item for the classic luxury look! With Fundle Stripe, everyone will notice you and your pet.
Make everyone envy you and fall in love with your pet with Fundle!