Shabby Snood (B826)
Be the Fashion Icon with the Shabby snood
Practical and stylish item for pet.
Can be worn as a scarf or hat when go out, also Can be worn during meals to prevent ears dipping in food and water.
also Used for healing purposes protect the affected area.Snoods gently hold back the ears and allow ears time to heal.
Color : Blue, Pink
Size : S, M, L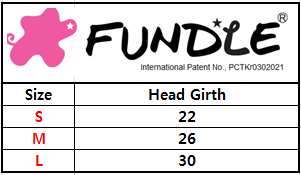 You can refer to the table above.
Product size has to be smaller than it of dog/cat.
Size can be different from the specification
Because the product is hand-made. If you don't know the size, we have designers to consult.

All Images Copyright, 'Fundle', All Rights Reserved.